subscribe to Supervisor Mashburn's District 5 Newsletter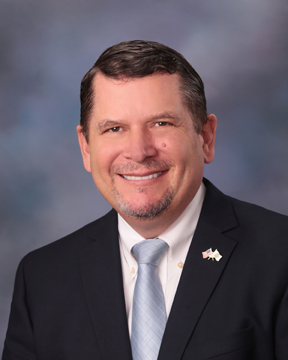 Supervisor Mitch Mashburn represents the 5th District of Solano County, including the City of Rio Vista, Elmira, portions of the Cities of Fairfield, Suisun City and Vacaville, as well as the beautiful rolling hills of Eastern Solano County. The 5th District is the proud home of thousands of airmen and civilian employees at Travis Air Force Base, hundreds of small farms, orchards and ranches, and a portion of the San Francisco Bay Delta – the largest estuary on the west coast of North and South America, and the world's only inland Delta.
Mitch's life is rooted deep in the soil of Solano County and reflects a strong commitment to public service. The grandson of field workers and sharecroppers and son of a proud union electrical worker and Navy Veteran, Mitch is committed to creating new opportunities for another generation to succeed here.  A second-generation graduate of Armijo High School, Mitch spent his summers learning the value of hard while work cutting fruit in Suisun Valley. After an injury sidelined him from football at Solano College, Mitch found a new calling, working for the Solano County Sheriff's Office as a Correctional Officer.
Prior to his retirement in December 2020, then-Facility Commander Lieutenant Mashburn directed the day-to-day operations of the jails, 300 staff and a seven-million-dollar budget, giving him unique insight into problems created by crime and homelessness. In recent years, Mitch directed construction of the Stanton Correctional Facility and the Roark Vocational Training Center, bringing in both projects on-time and under-budget with two of Solano County's largest Project Labor Agreements to date.
Sparked by an interest in parks and youth programs, Mitch served as a Vacaville Planning Commissioner prior to his successful run for the Vacaville City Council in 2010. As a Councilmember and Vice Mayor for a decade, Mitch focused on neighborhood safety and creating new job opportunities. Even through an economic downturn, Mitch helped guide the adoption of balanced annual budgets totaling nearly $160 million, protecting taxpayers while maintaining Vacaville's infrastructure, streets, and community parks.
A solution-oriented leader, Mitch is committed to tackling some of Solano County's biggest challenges – homelessness, supporting our Veterans, preservation of the Delta, public safety, and balanced budgets in a post-COVID economy.
Mitch and his wife, Tonya, live in Vacaville with their three daughters, McKenzie, Olivia, and Brooklyn.

CONTACT INFORMATION

Supervisor Mitch Mashburn
(707) 784-6130 | [email protected]

Amy Sharp, District Representative
(707) 784-3020 | [email protected]

Danette Mercado, District Representative
(707) 784-6131 | [email protected]

********************************

District 5 e-Newsletter Archive
(1) March 2021 e-Newsletter PDF
(2) May 2021 e-Newsletter PDF
(3) July 2021 e-Newsletter PDF
(4) September 2021 e-Newsletter PDF
(5) December 2021 e-Newsletter PDF
(6) February 2022 e-Newsletter PDF
(7) June/July 2022 e-Newsletter PDF
(8) October 2022 e-Newsletter PDF
(9) December 2022 e-Newsletter PDF
(10) March 2023 e-Newsletter PDF
(11) May 2023 e-Newsletter PDF
(12) July/August 2023 e-Newsletter PDF