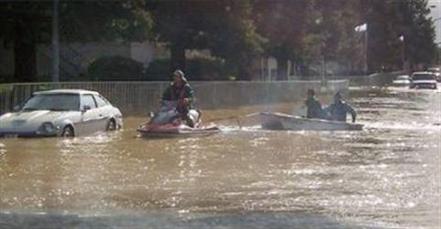 What to do before, during, and after a flood event.

What is flooding? 

Flooding is an overflowing of water onto land that is normally dry. Floods can happen during heavy rains, when ocean waves come on shore, when snow melts quickly, or when dams or levees break. Damaging flooding may happen with only a few inches of water, or it may cover a house to the rooftop. Floods can occur within minutes or over a long period, and may last days, weeks, or longer. Floods are the most common and widespread of all weather-related natural disasters.

Flash floods are the most dangerous kind of floods because they combine the destructive power of a flood with incredible speed. Flash floods occur when heavy rainfall exceeds the ability of the ground to absorb it. They also occur when water fills normally dry creeks or streams or enough water accumulates for streams to overtop their banks, causing rapid rises of water in a short amount of time. They can happen within minutes of the causative rainfall, limiting the time available to warn and protect the public.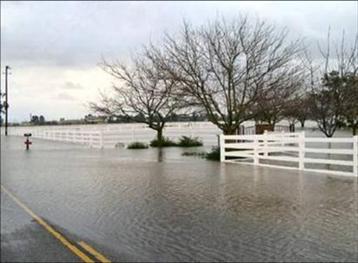 Before a Flood
Find out what your flood risk is. Your community public works or environmental management department are your best resources to learn about the history of flooding for your region. Ask whether your property is in the floodplain and if it is above or below the flood stage water level. Flood Insurance Rate Maps (FIRMs) are used to determine your flood risk. Use the link below to view the map:

Click here to view your flood risk.
Click here for real-time flood information.
Click here for flood insurance information.

Clean out downspouts and gutters to your home or business. 

Videotape or take photographs of your property, home, and contents.

Landscape with native plants and vegetation that resist soil erosion.

Prevent sewer lines from backing up by installing backflow valves or standpipes.

Raise your washer, dryer, and other equipment such as the water heater, furnace, and electrical wiring above the base flood elevation level on a masonry base. If you are unable to raise a particular item, consider anchoring it and protecting it with a floodwall or shield.

For homes with a basement, install flood shields or built-up barriers for windows and doors. The tops of barriers should extend above the base flood elevation.

Install and maintain a sump pump system if you have below grade floors.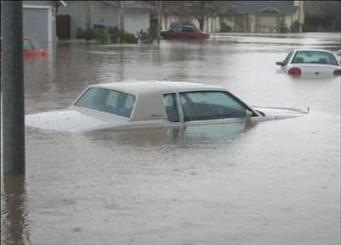 Know the Terminology
Source: National Weather Service - https://www.nssl.noaa.gov/education/svrwx101/floods/

FLOOD WATCH or FLASH FLOOD WATCH– Flash flooding or flooding is possible within the designated watch area – be alert.

FLOOD WARNING or FLASH FLOOD WARNING – Flash flooding or flooding has been reported or is imminent – take necessary precautions at once and get to higher ground.

URBAN and SMALL STREAM ADVISORY- Flooding of small streams, streets, and low-lying areas, such as railroad underpasses and urban storm drains is occurring.

FLASH FLOOD STATEMENT or FLOOD STATEMENT- Follow-up information regarding a flash flood or flood event.

Build a Disaster Kit
Be prepared to be self-sufficient for at least 72 hours

Flashlights and extra batteries

Portable, battery-operated radio and extra batteries tuned to a local station (95.3 KUIC) and follow emergency instructions.

First aid kit and manual

Essential and prescribed medications

Cash and credit cards

Sturdy shoes, rain gear, extra clothing

Special items for infants, elderly, and disabled family members

An extra set of car keys

Water (one gallon per person per day). Replace every six months.

Non-perishable packaged or canned foods and a non-electric can opener.

A list of doctors, medications, and important family medical information

Cell phone, charger, and batteries

Personal address book and telephone list

Flood insurance policy

Pet supplies, including food and water

Visit, Get Ready Solano for more resources on building a kit. 

If you live in a frequently flooded area, take preventative measures and stockpile emergency building materials:

Plywood, plastic sheeting, lumber, nails, hammer and saw, pry bar, shovels, and sandbags.

Have check valves installed in building sewer traps to prevent flood waters from backing up in sewer drains.

As a last resort, use large corks or stoppers to plug showers, tubs, or basins.

If time permits, here are other steps that you can take before the flood waters come:

Turn off all utilities at the main power switch and close the main gas valve if evacuation appears necessary.

Move valuables to an upper floor or higher elevation.

Fill bathtubs, sinks and bottles with clean water. Sanitize the sinks and tubs first by using bleach. Rinse, and then fill with clean water.

Bring outdoor possessions, such as lawn furniture, grills, and trash cans inside, or secure them.

Move vehicles and equipment to a higher ground. 

Know how and where to obtain sandbags. Click here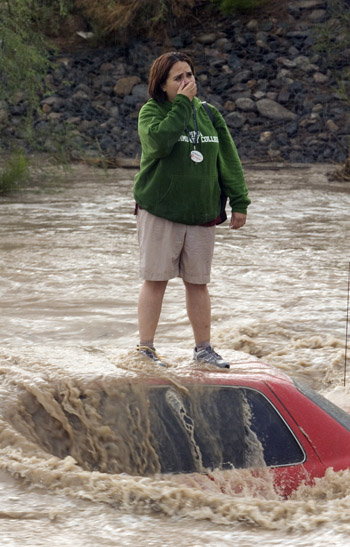 After The Flood
Flood dangers do not end when the water begins to recede. Listen to a radio, television, or check online for information from authorities on when it is safe to return home. Help your neighbors who may require special assistance--infants, elderly people, and people with disabilities.

If your home, apartment, or business has suffered damage, call the insurance company or agent who handles your flood insurance policy right away to file a claim.

Before entering a building, inspect foundations for cracks or other damage. Don't go in if there is any chance of the building collapsing.

Upon entering the building, don't use matches, cigarette lighters or any other open flames, since gas may be trapped inside. Instead, use a flashlight to light your way.

Keep power off until an electrician has inspected your system for safety.

Floodwaters pick up sewage and chemicals from roads, farms, and factories. If your home has been flooded, protect your family's health by cleaning up your house right away.

Throw out foods and medications that may have met floodwater.

Until local authorities proclaim your water supply to be safe, boil water for drinking and food preparation vigorously for five minutes before using.

Be careful walking around. After a flood, steps and floors are often slippery with mud and covered with debris, including nails and broken glass.

Take photographs and/or video of all damage and repairs.

Document all purchases for supplies, materials, labor, appliances, furniture, etc.

Take steps to reduce your risk of future floods. Make sure to follow local building codes and ordinances when rebuilding and use flood-resistant materials and techniques to protect yourself and your property from future flood damage. Please contact the Solano County Building Division for building code and building permit information: Click here or call 707-784-6765