Mobile Crisis Services
Community Based Mobile Crisis Team
Pacific Clinics and Solano County Behavioral Health offer county-wide Mobile Crisis Response Program in Solano County in partnership with the local Police Departments. The program was initially launched in May of 2021 in Fairfield and Suisun City. BH has expanded the program to all cities in April 2022 however had to be paused due to staffing gaps in September of 2022.

Through support for the provider and in coordination with local law enforcement, the program relaunched in May 2023 to Fairfield, Suisun then in July to Vacaville and Dixon. Solano BH meets biweekly with all city law enforcement agencies to cross-train and jointly determine next steps for expansion. We are still rebuilding team capacity to fully expand countywide and 24/7 as required by the State through BHIN 23-025.
 
Solano County Behavioral Health is proud to launch this vital program along with a new contract with Medic Ambulance to support community transports to prevent individuals in crisis being transported in a police car, reducing trauma. These long-awaited service requested by community members, persons served, family members and stakeholders, are funded by Solano County and the voter approved Proposition 63, Mental Health Services Act (MHSA) as described in the Integrated Three-Year Plan.


Current cities and hours of operation:

Fairfield, Suisun, Vallejo and Dixon
8:30 am - 9 pm, Monday - Friday only
call 911 and dispatch will coordinate with mobile crisis.
Response Tiers
To understand the different Mobile Crisis Response teams, view this document with the various Response Tiers (how calls are triaged) and Critical Engagement Programs like Homeless Outreach, AOT, and others that coordinate with Mobile Crisis.

School-Based Mobile Crisis Team
In addition to Community-Based Mobile Crisis Services, Solano BH has contracted with the Solano County Office of Education (SCOE) as a result of the the Mental Health Student Services Act (MHSSA) grant award of $4 Million across 5 years, which will expand mental health services and supports for students in K-12 school sites across Solano County. The MHSSA Grant supports the enhancement and expansion of training for school personnel, parents/caretakers and students in recognizing the signs of mental health conditions, stigma reduction and suicide prevention for Solano school districts and charter schools. Additionally, this grant supports the enhancement of districts' crisis protocols as well as the implementation of a specialized school-based mobile crisis team to respond to student crises on school campuses during the school day. This will allow SCOE to provide additional direct mental health services, screenings and assessments for middle and high school students identified to be at risk for dropping out of school, for participating school districts and charter schools.

Services will include phone crisis screening and triage; in-person crisis evaluation and crisis intervention services; and linkage to an appropriate level of follow-up service including, but not limited to, referring individuals to the crisis stabilization unit (CSU) or a local emergency department (ED). Additionally, SCOE will provide support for districts to assist students who were hospitalized to return to school. SCOE will be focused on developing a coordinated system of crisis services in partnership with local education agencies (LEAs), the CSU, local EDs, and SCBH. School sites are the primary referral source for the SCOE School-Based Mobile Crisis Services.  Press Release PDF
Lanterman Petris Short (LPS) Act & 5150 process
What is an involuntary hold or 5150?
5150 is the number of the section of the Welfare and Institutions Code, which allows an adult who is experiencing a mental health crisis to be involuntarily detained for a 72- hour psychiatric hospitalization when evaluated to be a danger to others, or to himself or herself, or gravely disabled.

A person on a 5150 can be held in the hospital involuntarily for up to 72 hours. This does not mean that they will necessarily be held the entire 72 hours; it means that psychiatric hospitals have the legal right to do so if determined to be necessary. A person can be held involuntarily in a psychiatric facility only if he or she meets at least one of the three basic criteria as a result of a mental health disorder:
- A danger to others.
- A danger to self – Not limited to suicidal behavior.
- Gravely disabled – Unable to take care of food, clothing, and housing needs. The law also states that the evaluator shall consider available relevant information about the historical course of the person's mental illness.

Who can complete this form? Only law enforcement personnel or person's trained and designated by the Solano County Behavioral Health Director may complete it

5150: Blank form 

Supplemental Forms:

Advisement form (eng)

Advisement form (span)


DHCS Website
Access to all the most recent MH Certification Forms: https://www.dhcs.ca.gov/formsandpubs/forms/Pages/Mental_Health-Forms.aspx  

NAMI Solano:
Guide to LPS for families: https://namisolanocounty.org/guide-to-lcs-conservatorship/


---
Laura's Law (AOT) Assisted Outpatient Treatment
What is AOT?
Assisted Outpatient Treatment (AOT) is a new intervention strategy adopted by the Solano County Board of Supervisors for local implementation. Also known as "Laura's Law", AOT is a civil (not criminal) legal procedure that can be requested by concerned family members, care-givers, and other qualified referral sources (see below) for people who may be too ill to recognize the need for services. Under AOT, eligible individuals can receive court-ordered, intensive treatment in the community. The goal of AOT is to improve access and adherence to services at the lowest level of care necessary in order to prevent further deterioration that can result from untreated serious mental illness.
What services does AOT provide?
Services are first offered voluntarily if the person is willing to accept help
Intensive case management team that provides mental health treatment, medication monitoring, access to primary health care, and substance abuse counseling
Assistance in applying for an obtaining benefits such as SSI and food stamps
Help finding supportive housing
Vocational rehabilitation
Peer mentoring and support
Collaboration with and support for families
Oversight by a Judge when needed to encourage compliance
No forced medication
Who can request AOT? (per W&I Code 5345-5349.5)
Immediate adult family member
Adults residing with individual
Director of treating agency, organization, facility, or hospital
Treating licensed mental health professional
Peace officer, parole or probation officer supervising the individual
Who qualifies for AOT? (must meet all, per W&I Code 5345-5349.5)
Solano County resident, minimum of 18 years of age
Clinical determination that the person is unlikely to survive safely in the community without supervision
Person's condition is substantially deteriorating
Person has been offered chance to participate in development of their treatment plan for services and continues to fail to become involved
Person has a history of a lack of participation in mental health program that have resulted in either 2 or more hospitalizations in the last 36 months, or have one attempt to cause harm to self or others in the last 48 months
Person is likely to benefit from AOT services
AOT Referral Form:
If you have Internet Explorer Click here for a fillable form. If you are using another browser you can also click here for the printable version. Please email the completed Referral Form to [email protected]. 

Presentation: Assisted Outpatient Treatment (AOT) Presentation

Brochure: Laura's Law Assisted Outpatient Treatment (AOT) Brochure


---
Crisis Stabilization Services
If this is a crisis, please either call 911 or call our crisis unit at 707-428-1131

Crisis Stabilization Services (CSS)
Crestwood Behavioral Health
2101 Courage Drive
Fairfield, CA
707-428-1131


About:

Crestwood Crisis Stabilization Unit (CSU) provides Solano County children, adolescents and adults, who are experiencing a mental health crisis, a safe and warm place to land. It is their first step on their road to recovery. The CSU has 12 beds and is open 24-hours a day, 7-days a week and no appointment is necessary. Clients are welcomed into our safe, homelike environment, where they will receive compassionate recovery support from our diverse team of clinical staff who are trained in trauma-informed approaches of care.

The CSU is funded by Solano County Health and Social Services Mental Health Services Act.
---
988 Lifeline

988 is the national number to reach the new "988 Lifeline" (previously known as the National Suicide Prevention Lifeline). 988 also includes a text option which is new.

California will be utilizing the 13 statewide crisis call centers that have always answered the National Suicide Prevention Lifeline 800 number. The staff in these call centers are part of the SAMHSA Lifeline network. For callers inquiring about help within Solano, as we do not have a crisis hotline center, they will get routed to our local hotline at the Contra Costa Crisis Center who then coordinates with our local services.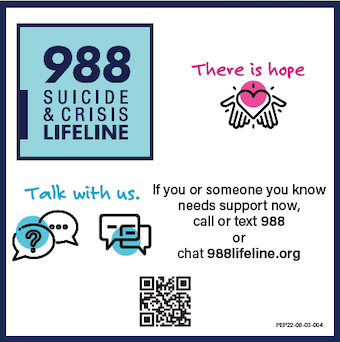 Questions

If you have any other service questions, call the Behavioral Health Access Line at (800) 547-0495 - Monday through Friday, between the hours of 8:00 am and 5:00 pm

The Access line is not a crisis service.